Techno-economic analysis
Focusing on the operational and socio-econmonic benefits of wireless
Helping clients understand the costs, benefits and payback timeline of investing in wireless infrastructure in their settings.
Wireless connectivity underpins the day-to-day activities of many businesses. Ensuring that the correct wireless infrastructure is in place is increasingly vital for commercial and public sector organisations. Being able to quantify the benefits and costs of different wireless offerings and navigate to the right strategy is key.
We also help wireless technology providers understand where their products may provide cost or performance improvements when deployed in real environments.
Private sector investment in wireless
Connectivity increasingly underpins the digital transformation and operational benefits of many businesses. Our extensive private sector experience helps us to identify and prioritise the use cases and expected timescales for return on investment to inform the decision-making, funding options and potential partnerships.
Transport hubs – airports, ports, road and rail
Transport hubs and routes are a natural source of crowds. This can put pressure on surrounding mobile infrastructure and lead to poor connectivity for travellers. Transport hubs also rely on real time status updates to ensure that planes, trains, people and goods all flow in the most efficient, safe and secure way possible. We help transport hubs capture their connectivity requirements, analyse the operational benefits and costs of options to fulfil these and advise on the best wireless infrastructure investment strategy to fit their needs.
Case study: Hamburg port
Tourist attractions and hospitality
Visitor and guest connectivity expectations are constantly growing. Alongside this, improvements in wireless technology can deliver exciting opportunities like new immersive experiences or improved building management systems. We help clients understand the right wireless infrastructure and strategy required to keep pace with these expectations and opportunities.
Case study: 5G tours paper
Hospitals and care homes
Ensuring that staff, patients and visitors have access to reliable and secure connectivity allows efficient use of resources in healthcare settings and improvements in patient experience and outcomes.
Case study: 5G tours paper
Public sector investment in wireless
We are experienced in public sector business case development, including the UK's Green Book process. We help clients understand the socio-economic benefits of investment in the right wireless strategy at local, regional or national levels.
Local authorities and city councils
Wireless infrastructure is increasingly impacting our cities and streetscapes in a number of ways:
Presenting challenges for planning teams such as visual impact
Transforming how residents of demographics can access public services
Providing the catalyst for economic growth and investment by businesses
Opportunities for smart city services for improving LA and council operations
National and government interventions and investment
Governments are realising the need for a national connectivity strategy to support inward investment and innovation. As well as ensure that their country remains competitive internationally. However, public funds are limited, and interventions need to be balanced and efficient. We help public sector clients quantify the benefits realised from funding interventions and how to convert interventions into sustainable business models.
Case study: DSIT Future Telecoms Infrastructure project, Autoair
Social care in the community
Social care is transformed by advances in telehealth and telecare services. However, these advances need good connectivity across the community. We help care service providers understand options for overcoming the digital divide and finding the right strategy for connecting with all.
Case study: Liverpool 5G
Benefits of working with Real Wireless
Independent, unbiased advice on the best option wireless strategy to fit your organisation's needs
Understanding of currently available wireless products and features vs. hype of future roadmaps
Thought leaders in quantifying both operational and socio-economic benefits of wireless investment
Thorough, evidence-based analysis of benefits vs. costs across a range of wireless options to make informed strategy and investment decisions
Experienced in public sector Green Book business case development
Independent of any operator or technology vendor
Publications
A business case for 5G services in an industrial sea port area
This article is published in the latest Telecommunications Policy report and was contributed to by Real Wireless experts Julie Bradford and Hassan Osman. In the article the authors analyse the business case for three 5G use cases in an industrial sea port area. The area studied was the Hamburg port in Germany over the period 2020–2030.
Download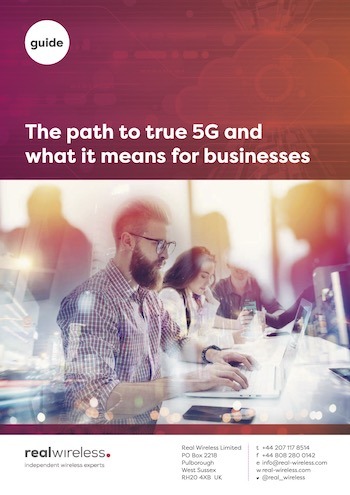 The path to true 5G and what it means for businesses
Real Wireless Managing Consultant Julie Bradford has written this accessible introduction to the 5G roadmap for Enterprise IT teams. This guide offers a realistic take on how we see 5G evolving – what's happening today, what's likely to happen in the near future – and how significant shifts in network architecture like virtualisation and network slicing will affect services, costs and supply chain.
Download
Our people